I wrote a couple of posts a while ago about a trip to the north Norfolk coast in the depths of winter, but I didn't get round to completing the story. All the wader ('shore birds' in N.America) images in that post were taken on the beach at Snettisham, and as I was leaving there at around half past nine in the mornng to head along the coast a short hop to the RSPB reserve at Titchwell, the sun had risen and more birds were discernible on the previously invisible small lakes immediately behind the beach.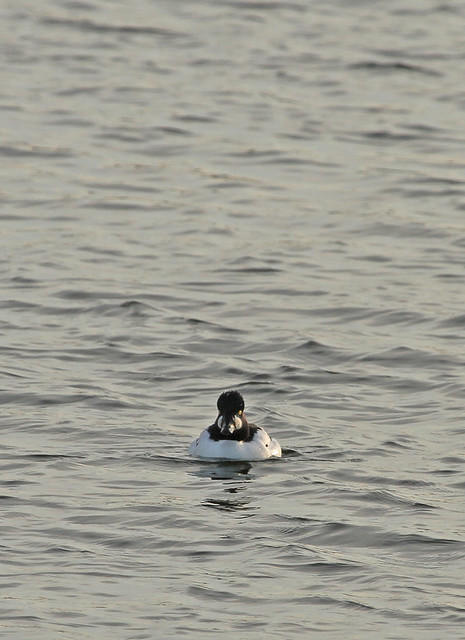 A handsome male goldeneye (Bucephela clangula, Dansk: hvinand)
The goldeneye is a diving duck which has recently colonised Britain and there is an annual breeding population of around 200 pairs but it's also a winter visitor when around 27,000 individuals arrive here to seek sustenance on lakes, rivers and tidal mudflats.
A lone redshank poking around for molluscs and crustaceans in the tidal mud (Tringa totanus, Dansk: rødben)
Also prominent on tidal mud flats is the redshank, or 'the sentinel of the marsh' as it's often the first bird to raise the alarm when a disturbance occurs, is amber listed in the UK although there are 24-25,000 breeeding pairs and up to 130,000 winter visitors. As with many other birds, encroachment by humans and habitat destruction has limited their range and therefore numbers in the UK. But despite their struggle with humans I always expect to see redshank when I visit the coast, and the other wader that I'd be very concerned if I didn't see is the unmistakable oystercatcher:
A few members of a big flock of oystercatchers passing overhead (Haematopus ostralegus, Dansk: strandskade)
Despite high expectations of seeing some of the 340,000 wintering UK oystercatchers their conservation status in the UK is amber, the European status is 'vulnerable' and globally they are 'near threatened' due to recent population decline. But there are still good numbers of them in the UK so I hope their numbers can be stabilised.
Another amber listed wader in the UK is the grey plover:
Grey plover (Pluvialis squatarola, Dansk: strandhjejle)

The grey plover is a truly global bird, it breeds on the Russian tundra and in northern North America but can be found as far afield as southern Asia, Africa and even Australia – it has a huge annual range! So it's remarkable to think that this little guy came from Canada or northern Russia to feed on a Norfolk beach – and also that some of its relatives may be in Australia. It seems that many of our birds are struggling, including the statuesque black tailed godwit which is faring even less well than the grey plover and is red listed in the UK.
Black tailed godwit taking flight (Limosa limosa, Dansk: stor kobbersneppe)
According to the BTO (British Trust for Ornithology) the taxonomic name derives from the Latin word 'limus' meaning 'mud'. In order to name such a handsome bird 'Muddy muddy' I can only imagine that particular  taxonomist was having a bad day. It deserves better! The black tailed godwit also breeds in the north and like the grey plover can also be found in southern Asia, South Africa and Australia. Another accomplished globe trotter.
Curlew (Numenius arquata, Dansk: storspove)
The largest European wader is the curlew which can be easily distinguished by it's enormous downcurved beak and it's equally unique call. Alas for the curlew, it is also red listed in the UK with 66,000 pairs recorded by the BTO in the UK in summer 2009. Even though it's numbers are declining it's still not unusual to see one or more on an outing to the coast.
At this point, between 9 and 10am, I decamped along the coast to Titchwell, pausing mid way where another iconic winter visitor was patrolling an adjacent hedgerow:
Fieldfare (Turdus pilaris, Dansk: sjagger)
It's pretty depressing to report that the fieldfare is also red listed, but fortunately this is a local UK phenomenon and it is a species of least concern in Europe and globally. It's our most colourful thrush and visits the UK from Scandinavia in the winter when it can be seen in large flocks in fields and hedgerows, often mixed in with redwing – another Scandinavian thrush which overwinters in the comparatively warmer climes of the UK.