This is the final instalment from my trip to Norfolk when I ended up at the RSPB reserve at Titchwell. Even though it was in the middle of January and it had been ferociously cold at 6.30am before the sun rose and warmed the earth, by midday it was a bright, sunny and warm day. Perfect conditions really for a trip to the coast to see the wildlife.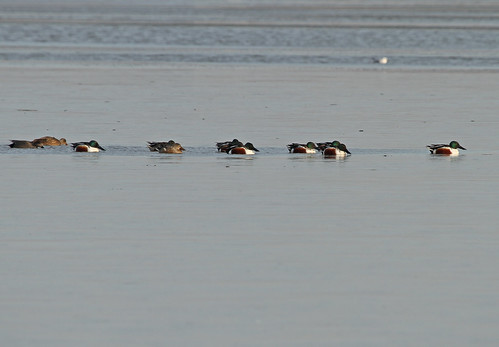 A raft of shovellers (Anas clypeata, Dansk: skeand)

The reserve at Titchwell consists of two fresh water lakes separated from the sea by a high dune. And to the west lies an expanse of scrubland which provides more space for wild birds and animals to exist unmolested. Consequently, and because of its location on the north Norfolk coast, it's a very good place to see  many water birds some of which can be rare sightings, such as the spoonbill.
There were no spoonbills to be seen on this trip but there were plenty of other species including shoveller, whose Danish name 'skeand' translates as 'spoon-duck' for reasons easily divined. Another of my favourite ducks, because of it's gorgeous colours, is the diminutive teal:
Male teal (Anas crecca, Dansk: krikand)
The teal is about half the size of the chunky shoveller and there are around 2000 pairs breeding here in the summer. I like etymology, so the collective noun for teal – a 'spring' (because of they they rise en masse almost vertically when flushed) – is a fun one. Both the teal and the shoveller, which has 700 breeding pairs in the UK, are amber listed. But a ray of hope for these threatened water birds is that huge areas on the east coast of England have been opened up to the sea and allowed to flood as a mitigation of the worse ravages of the effect on the oceans of climate change, and this will hopefully create homes for hundreds of thousands of resident birds and migrant vistors throughout the year.
Ringed plover (Charadrius hiaticula, Dansk: stor præstekrave)
There are 110-180,000 pairs of ringed plover in Europe and around 4% of them breed in the UK, but the numbers and range of these have been steadily declining, so this species has earned red conservation status in the UK, although it is a species of least concern in Europe as a whole. Hopefully the new coastal habitats being created here will help to reverse this trend.
The next four pictures are of birds which appeared in the previous two posts and were photographed at Snettisham, but one of the great things about Titchwell is that it's possible to get close to the wildlife. And as they were there too I've included these images in this post because I like them:
Lapwing (Vanellus vanellus, Dansk: vibe)
Black tailed godwit (Limosa limosa, Dansk: stor kobbersneppe)
I really like the ripples and the reflections of the godwit in this image.
Curlew (Numenius arquata, Dansk: storspove)
Grey plover (Pluvialis squatarola, Dansk: strandhjejle)
Another thing that I like about this collection of pictures is that it demonstrates the importance of mudflats for these birds to find the molluscs and crustaceans they need to refuel. It doesn't make for the most interesting background for a wildlife portrait, unless there are some photogenic reflections, but I guess it focusses the eye on the subject!
There was no image of this small seabird in the previous, at least not on it's own, but there may have been significant numbers mixed in with the huge flocks of dunlin:
Knot (Calidris canutus, Dansk: islandsk ryle)
The knot is another of those truly magnificent creatures that breeds in the northern Arctic (a real feat of survival in it's own right) and then migrates to its winter feeding grounds as far as south Africa, south America and Australia. And then a few months later they do the same journey in reverse. I wonder how many miles one of these little birds can cover in its whole lifetime – and all under it's own steam? I can't help but have immense respect for them!